Products
HOLIDAY SALE!
Through 12/29/23, All Muscle MX CBD Products are 25% off!


Why is Hand & Ortho offering CBD for purchase?
Supplementing physical therapy with CBD (cannabidiol) balms and lotions has been shown to facilitate physical therapy, dry needling and exercise by decreasing pain and inflammation. CBD drops also reduce tension, anxiety and improve sleep, which helps promote better patient outcomes.
What is CBD?
CBD is derived from the medicinal cannabis flower. It's a natural supplement that blocks pain in the brain and alleviates stress that helps facilitate recovery during physical therapy.
How does CBD work?
CBD works through the body's endocannabinoid system (ECS). When activated with CBD lotions, balms and/or drops the ECS helps regulate pain, inflammation, sleep, mood and appetite. The ECS has receptors ("locks") and neurotransmitters ("keys"). CBD keeps the system "unlocked" by blocking the breakdown of neurotransmitters, allowing you to feel amplified benefits of the ECS for a longer time.
Does it have THC? (the psychoactive compound responsible for marijuana's psychological effects)
The CBD products that Hand & Ortho offer have 0% THC. The State of Utah requires third party laboratory testing to ensure that all CBD products are safe and THC free.
Patient Testimonials
"My therapist used the CBD after the Graston and manual work - two thumbs up on that! I was expecting a lot more soreness, primarily where he had worked the trigger point in the left arm - there was almost none. That stuff worked well for calming everything down after the work."
-Jenna B
"I injured my back 15 years ago at work and I always feel like I have to protect it. PT and exercise have always helped – a lot - but I still struggle to get going. I've tried a bunch of different CBD products and Muscle MX is by far the most effective. I have less stiffness in the morning and CBD allows me to exercise and play with my kids with less pain. I definitely feel it when I don't use it! It's so nice to wake up and be ready to go!"
–Dayna S.
"I have been happy to add CBD as a supplement to my Physical Therapy. It helps the aches and pains, and it smells amazing.. It feels nice and warm... It really relaxes my husband's neck, he said it doesn't feel as tense and tight... It also helps with my back, I use it sparingly!"
Barbara H.
CBD Products Offered by Hand & Ortho
Muscle MX – Activate CBD Heated Roll-On Balm – fires up your muscles and joints before physical therapy or your workout. Both roll-on balms target pain and inflammation.
Activate Mini Sleeve 70 mg CBD
Activate Stick Sleeve 350 mg CBD
Activate Plus Sleeve 1000 mg CBD
Net Wt. .50 oz (1.4 gms)
Net Wt. 2.5 oz (75 gms)
Net Wt. 2.5 oz (75 gms)
$12


Holiday Sale Price: $9



$32


Holiday Sale Price: $24




$65


Holiday Sale Price: $50



Muscle MX – Recovery CBD Roll-On Balm – is ultra-cooling and made for post-activity. Activate and Recovery balms together are great for injury prevention and pain management for aching muscles, tendons and joints
Recovery Mini Sleeve 70 mg CBD
Recovery Stick Sleeve 350 mg CBD
Recovery Plus Sleeve 1000 mg CBD
Net Wt. .50 oz (1.4 gms)
Net Wt. 2.5 oz (75 gms)
Net Wt. 2.5 oz (75 gms)
$12


Holiday Sale Price: $9

$32


Holiday Sale Price: $24



$65


Holiday Sale Price: $50



Muscle MX – Restore CBD Lotion – Combines the pain-relieving properties of CBD and the anti-microbial benefits of nano-silver technology that targets pain and inflammation. Restore also contains hyaluronic acid that hydrates and moisturizes your skin and heals dry cracked skin, blisters and minor skin irritations while warding off infection.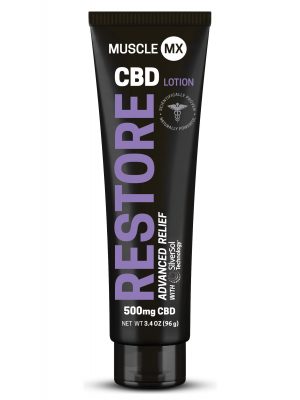 Restore Lotion 500 mg CBD
Net Wt. 3.4 oz (96 gms)
$35
Holiday Sale Price: $26
Muscle MX – Relax CBD Drops – Caramel flavored CBD drops with Ashwaganda can be taken during the day for a sense of calm or at night for a restful sleep.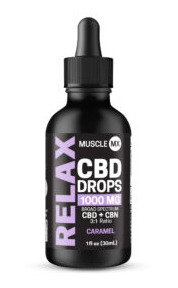 CBD/CBN Drops 1000 mg
1 fl oz (30 ml)
$65
Holiday Sale Price: $50
If you are interested in learning more about how CBD works, here is a short article with more information.