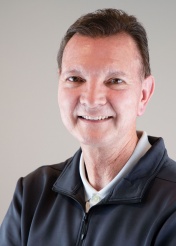 From the moment I learned about the physical therapy profession in my university career education class, I have been drawn to the impact it has in people's lives.
There is a magical connection that occurs each time my training as a physical therapist is a match for an individual's orthopedic concern. That connection has resulted in many friendships as I have walked alongside many people as they have learned to heal, overcome or accept a difficult part of their journey. The process of discovery of what each human body will respond positively to is a journey I make every day with each patient. It is a journey I made as well with my own personal challenge.
In 1995, I had one of the great learning experiences of my life….a grade III herniated disc. My physical therapy training at the University of Utah, my orthopedic residency in Austin, Texas, and my service to patients with similar conditions still lacked the capacity to teach me what I learned about healing from one of the most difficult growing experiences of my life. I learned that a highly trained physician, gravity, time, positive energy, and empathy all played a role in my recovery and ability to avoid surgery and restore my health to the highest possible level.
Now that I am on the other side of the experience, I enjoy sharing what I learned and applying the principles of healing with each patient interaction. I have learned that healing is a combination of courage plus action plus grace. I hope to teach the actions of healing and invite courage and grace to play their roles in each individual's recovery.
Every time I run (9 marathons), play tennis (4.0 league), golf (bogey golfer), ride my mountain bike, ski, water-ski, or just go for a walk with my wife, I am grateful to those that helped me recover.
I have no intent of changing my course, except to learn more, serve more and experience more the magic of my profession.
Orthopedic Specialty: Spine, including cervical, thoracic ribs, and lumbar, scoliosis
Non-traditional Specialty: Fibromyalgia program, Ehlers-Danlos Syndrome, runners program