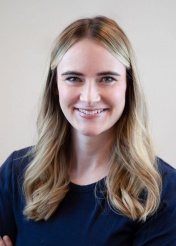 I've been interested in occupational therapy since I was young and learned what it's like to be a patient. When you're injured, you're dealing with a lot of unknowns, and the care of a confident team of experienced therapists can make all the difference in recovery. Listening to patients and making them feel comfortable is crucial to a successful rehab, but this is only possible when therapists are proficient and knowledgeable in their area. That's why I'm excited to be a hand mentee at Hand & Ortho where I can learn from the best.
Originally from Texas, I moved to Oklahoma for college, where I graduated in 2020 from the University of Oklahoma with a master's degree in occupational therapy. From there, I moved to Idaho for two years with my husband, where I worked in acute and outpatient care. After practicing for a bit, I decided to specialize in the rehabilitation of the upper extremity. Our hands are complex body parts we use every day; even the simplest injury can be incredibly debilitating, and it's my aim to give patients the tools they need, mentally and physically, to restore and readapt their functionality.
When I'm not working, I love to read, preferably near a body of water, hang out with my two cats, eat coconut snow cones, and watch reality tv.