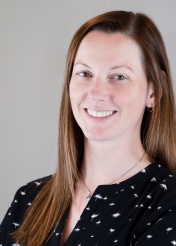 I grew up on a farm outside of Pittsburgh, Pennsylvania and graduated with a Masters degree from Duquesne University in 2005. I love to understand anatomy and solve problems so the complexity of the hand is a natural fit. I completed a post-professional certification in hand and upper extremity rehabilitation at Drexel University in Philadelphia in 2007-2008, learning from some of the leaders and innovators in the field.
While there I presented on wrist injuries in gymnasts. Working with athletes is especially fun for me, as I have spent most of my life with gymnastics, skiing, and mountain biking. Through competitive sports and a little bit of clumsiness I have experienced a few of the injuries that I see in the clinic regularly. Having an injury that makes your favorite tasks or your job more challenging or impossible can be very frustrating!
I have been a CHT since 2011 and have a variety of ideas and techniques for all kinds of patients so I can treat each patient in a way that is individualized to his or her particular problems or goals. I have experience with IASTM/Graston, cupping, splinting, blood flow restriction, and taping.
Outside of work I love being active and outdoors. If I'm not on my bike I am spending time with my husband and two French bulldogs, cooking, reading, trying to learn a new language, or beat my best time for holding a handstand. The last part was much easier 20 years ago but I can still get close on a good day.