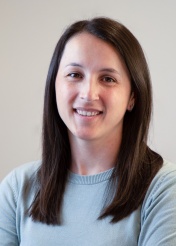 As someone who enjoys a variety of physically demanding activities, I am no stranger to injury. I have experienced the positive effects, both physical and emotional, that physical therapy has on those with injuries. As an adolescent ballet dancer, chronic hip pain kept me from performing at my highest level. Three hip surgeries in my teen years repaired the structural damage, but physical therapy is what got me back to performing my favorite activities pain-free. Today I enjoy rock climbing, biking, river rafting, playing viola, and backpacking- not always without injury, but always with the comfort of knowing physical therapy can help me heal.
I earned my Doctorate of Physical Therapy at the University of Utah. During my studies, I became interested in the subspecialty of hand and upper extremity therapy because of the unique creativity involved in treating these injuries. A post-graduate residency program prepared me to become board-certified as an Orthopedic Clinical Specialist, gaining advanced skills in treating the entire body. This additional knowledge proved of great benefit when I later completed a formal training program in hand and upper extremity therapy, since it is rare that an injury to one area of the body does not affect another area. I was grateful to receive mentorship in hand therapy from some of our region's most practiced and skilled Certified Hand Therapists here at Hand and Orthopedic.
I am also trained in several unique and innovative treatment techniques, including Graston Technique, dry needling, spinal and extremity manipulation, and blood flow restriction training. All of my additional training and specialization allow me to offer a wider array of treatments for patients with a variety of injuries. My goal is to help my patients access the optimal tools, treatment, and guidance to get back to life after injury. I am grateful to be a part of a profession and clinic that creates such meaningful change in our patients' lives.