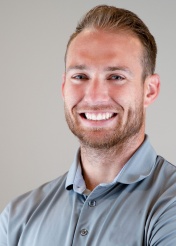 Every individual has a unique past, belief system, and goals they are striving to achieve. Throughout my career, I have had the pleasure of shaping the way I evaluate, teach, and rehabilitate to fit the complexities of the whole person in front of me.
My personal journey of injuries led me to providers that I admired and providers that made me feel unheard, unimportant, and uncared for. It was those experiences that drove me to become a Doctor of Physical Therapy and shape my approach to patient care. My mission is to provide a positive and therapeutic environment with evidence-based interventions and individualized care so my patients can return to the activities that make them who they are.
Growing up in the small town of Hamilton, Montana I played multiple sports and received a golf scholarship to Utah State University where I obtained a bachelor's degree in Human Movement Science. I then went on to earn a Doctorate of Physical Therapy from Rocky Mountain University of Health Professions. To provide more specialized care, I have completed my residency to become a Board-Certified Orthopedics Clinical Specialist.
My passion for golf has led me from playing collegiate golf to playing on the professional circuit. I expanded my knowledge of the game by working as an apprentice PGA golf professional at the Stock Farm Club. By obtaining additional certifications from the National Academy of Sports Medicine and the Titleist Performance Institute, I am able to provide golfers with a complete guide of rehabilitation, performance, and longevity.
Orthopedic specialty: Knee pain, shoulder pain, return to sport, post-operative rehab, and injury prevention.
Non-traditional Specialty: Rehabilitation for golfers.