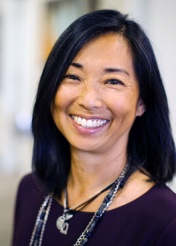 I am often asked by my patients, as we are working together on exercises, what got me interested in hand therapy. In reflection, I remember observing people's hands and being intrigued by how their hands reflected their strength and ability to work. It wasn't until working for a rehabilitation hospital for a few years that I was guided toward my scholastic endeavors. I graduated from Colorado State University with a Bachelors of Science degree in Occupational Therapy in 1987. A meandering path took me from Honolulu, Hawai'i, Colorado and finally to Salt Lake City where I started at Holy Cross Hospital's Quinney Rehabilitation Center in 1988. After a few years I opened a hand care program within the facility and continued to study with other therapists in the Salt Lake area, as we got ready to sit for the newly developed national Certified Hand Therapy exam.
This is where I met Margo Brady and joined Hand & Orthopedic Physical Therapy Specialists. I've been with Hand & Orthopedic Physical Therapy Specialists since 1992 and obtain my Certified Hand Therapist (CHT) credential in 1995. Presently I maintain my certificate and also have a certificate in ASTYM, a recognized treatment for soft tissue injuries. I've learned over the many years to assess wounds, deficits and abilities, design and carry out patient-specific treatment programs of acute and post-operative injuries, conservative treatments for tendonitis, arthritis, nerve compressions and over-use injuries, and fabricate a variety of orthoses to help heal and facilitate function. I feel the most important aspect of being a therapist is balancing the physiology and healing properties of the human body, expectations and directives from the physician, working within the confines of insurance parameters, all the while, listening to and valuing the needs of the person sitting in front of me.
I work hard to make your time spent with me effective and valued. I am mindful of your goals to get your hand, your wrist, elbow, and shoulder to the best place in the healing process for you to engage in your life's interests. I value engaging with my family and friends climbing, river rafting, skiing, hiking and camping. I expect that you also have the same need to be involved with what you are passionate.
Orthopedic Specialty: hand/wrist/elbow, arthritis, trauma