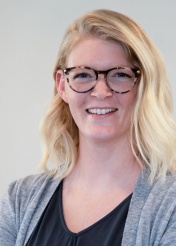 I've always had a love for science and a passion for helping others, so a career in physical therapy feels natural. When I learned about the pelvic floor specialty during PT school, I knew it was my niche. I am fascinated by how complex the pelvic floor is and how its proper function is vital to our ability to live a happy life.
I approach treatment with my patients based on the notion that we are a team: I can help them discover the power they have over their symptoms and limitations, celebrate breakthroughs big or small, and methodically work through any setbacks that may arise.
I received my Bachelor's degree in biology from Purdue University and my Doctor of Physical Therapy from the University of Utah. I have completed a clinical internship, specialized continuing education courses, and a mentorship in pelvic health and rehabilitation. I am honored to treat patients of all sexes and genders; we all have pelvic floors, and their dysfunction can wreak havoc on our lives.
I live in Salt Lake City with my husband, cat, and dog. I enjoy cooking, hiking with my family, backpacking in the Uintas, playing board games, and gardening.
Pelvic Specialty: Yoga Therapy, Athlete Incontinence, Pelvic Pain
Additional Conditions: urinary/fecal incontinence, pregnancy, sexual dysfunctions, SI joint/pelvic girdle dysfunction