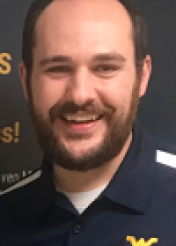 From the time I was a little kid, I always had an interest in two things- science and playing sports. During a career day in middle school, I was introduced to the profession of physical therapy. This profession seemed to combine the two things I loved most.
Having played many sports, especially running cross country and track and field, I am very familiar with injuries and the mental and physical toll they can take on our lives. Thanks to a few fantastic physical therapists, I realized that there is hope in overcoming these injuries and learned how to stay active while recovering. This is the precise reason I wanted to become a physical therapist, to help others find this same hope.
I attended my undergraduate studies at Utah Valley University, graduating with my Bachelor of Science in Exercise Science. I then went on to pursue my graduate degree at West Virginia University, recently graduating with my Doctorate of Physical Therapy. My wife and I, along with our sweet dog, Brownie, are very excited to be back in Utah and enjoying the outdoor activities this state has to offer.