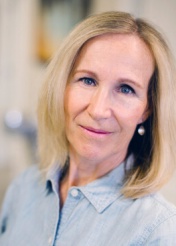 It was clear to me when I started running at a young age that the benefit of endorphins was a feeling of overall well-being – both emotionally and physically. Life was wonderful when I felt strong and alive. Once I learned about Physical Therapy as a teen it was a natural choice for my education and future career. My strengths were in the sciences, exercise and sports. Physical therapy combined those interests with my love for people and strong desire to contribute in a positive way to mankind.
Shortly after graduating from physical therapy school, I was introduced to hand therapy – another perfect fit. I was intrigued by the complexity of hand anatomy and the challenge it presented from a healing perspective when many tissues were involved. I had the incredible opportunity of being mentored by the best of the best hand surgeons in Salt Lake City for many years. After 40 years plus, I still love what I do. I love the science of physical therapy, the problem solving it requires daily and the opportunity to teach patients, colleagues and students. Fabricating custom splints is the art and creative side of hand therapy. As physical therapists we have the opportunity to help people every day regain motion, strength, independence and greater health. Perhaps it's my inner cheerleader, but there is nothing more satisfying than to see people succeed in returning to their lives.
Aside from work, my family brings me my greatest joy. I love to cook, play tennis, snow ski, garden, knit and water ski on glassy clear water.
Orthopedic Specialty: Hand and upper extremity