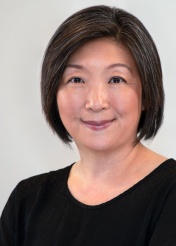 When I was a young child, I received a doctor's kit for my Christmas present, and ever since then I wanted to be in health care working with people. I have always had compassion for people, creativity, and nature, and I found my way to be an Occupational Therapist after graduating from Fine Arts School. After getting my Bachelor's degrees, I worked at an out-patient mental health setting as an Art Therapist and had the opportunity to interact with Occupational Therapist (OT) at the hospital who inspired me to become an OT.
In 2003, I graduated from Columbia University in New York City with an M.S. in Occupational Therapy and worked at an in-patient hospital for a few years where I met a certified hand therapist who inspired me about hand therapy. I decided to pursue an advanced education in hand therapy and attended the postgraduate program in hand therapy at Drexel University in Philadelphia for 2 years, where I met many amazing hand therapists who were advancing the field. In 2011, I passed my board exam through the Hand Therapy Certification Committee to become a Certified Hand Therapist (CHT). At the time I lived in East Coast, and in 2013 I moved to Utah after visiting a friend who took me to Arches National Park, which I immediately fell in love with.
Ever since I moved to Utah, I have pursued my career in Hand Therapy as an Occupational Therapist and had an amazing opportunity to work with Veterans in an outpatient setting. It was an honorable experience, and I learned about perseverance, patriotism, and overcoming challenges in life. I also continued my passion in Yoga, Meditation and Tai Chi and obtained certifications in Hatha Yoga, Chair yoga, Tai Chi, and Adaptive Tai Chi. These holistic approaches to life and health are a very important part of me and my calling as a therapist, and I am very enthusiastic about incorporating these ancient healing wisdoms to my practice of Hand Therapy. So, don't be surprised if you are doing some breathing and mediation with me during your hand therapy!
I am excited to join Hand and Orthopedic Physical Therapy Specialist as a Certified Hand Therapist, and my intention is to provide client-centered therapy to clients who may have injuries to their hand, wrist, elbow and shoulder. As a therapist, I am here to assist you to return to your life to your fullest potential after your injury and rehabilitation, and I hope we can be a partner in your healing process.
Graston Technique certified
Certified Hatha and chair yoga instructor
Certified adaptive TaiChi instructor