After completing my orthopedic residency with Hand and Ortho, I found my passion for physical therapy in Pelvic Floor Rehabilitation. I work to educate and empower patients to regain control over their bodies. My hope is that my patients understand their problems on an anatomical and behavioral level and have the tools to manage their symptoms during and after their treatment with me. My ideal patient will learn how to invest in their body through giving a commitment of their time, practicing mindful effort, and learn to have compassionate self-awareness.

I received my Doctorate of Physical Therapy from the University of Utah. I have been a yoga teacher since 2010 and trained in vinyasa yoga in San Francisco and advanced my knowledge through studying Anusara Yoga's principles of alignment. I became a Pilates practitioner through Polestar Pilates. I use the practice of yoga, meditation and Pilates in my therapy interventions with patients when facilitating mobility, stability and enhanced mind-body connection.

In my free time I like to listen to comedy, meditate, train with running buddies and indulge in movie nights with family and friends.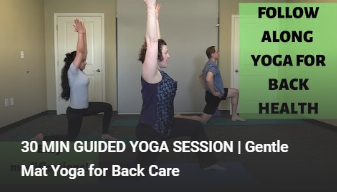 Presented by Andrea Corwin, Physical Therapist and Certified Yoga Instructor.